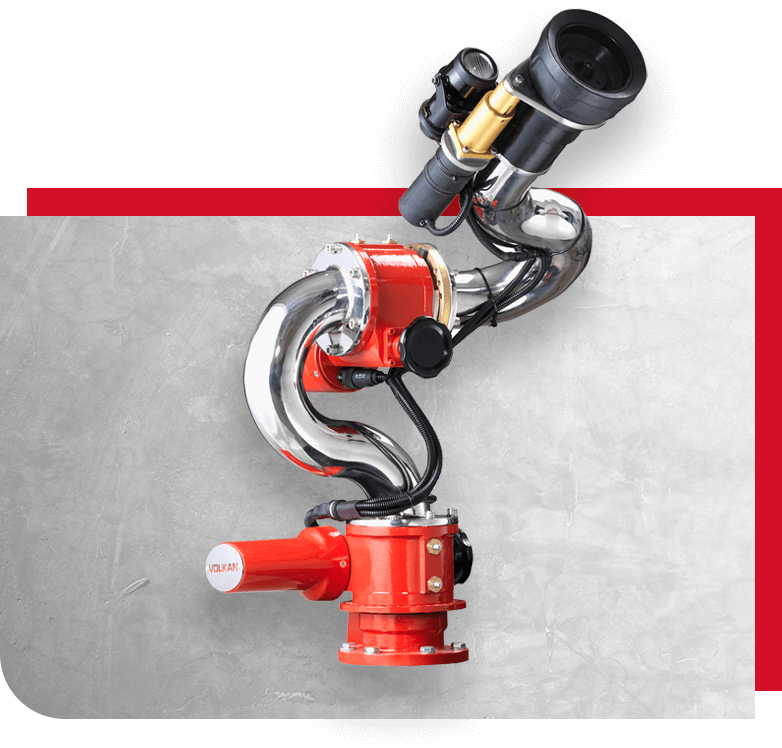 Light metal body
Electric drive Volkan Monitors are used all over the world in every kind of vehicle: aircraft firefighters, industrial or municipality vehicles. Volkan monitors are designed for maximum range of throw and for the best foam qualifications; they can be used as bumper or roof turrets too.
All of the turrets are appropriate for heavy duties with the best of firefighting liquids and foam component properties during the compilation services of climate conditions.
Light metal body,
Flow stub with adjustable flow rate,
Electrically adjustable throw rate,
Remote controller and available manual operation for possible electricity cuts,
GRP cover design,
Spot lights,
Fully electrical control unit,
Proportional DC Engine drivers,
Short circuit security system,
Protection system against freezing,
Automatic park and attack position,
Joystick: Proportioned Joystick – fast drive system,
Safety Class IP67,
Adjustable for Pressurized Air Foam System (CAFS),
Maximum operational pressure: up to 16 bars,
Full rotation via 24 VDC Planet drive engine,
Rotation: 165° left, 165° right / Vertical: –15° downwards, + 75° upwards.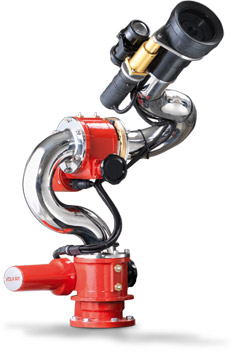 Technical Features Of Monitors
MONITOR TYPE
CAPACITY(LPM)
THROW RANGE
HORIZONTAL MOVEMENT
CONTROL
VERTICAL MOVEMENT
MAX.WORKING PRESSURE
MATERIAL
WG 1500 SM
1500 LPM @ 10 BAR
Foam/water : 30M/40M
360°
Manuel
'-45°-+90°
16 BAR
Hard Anodized Aluminum
WG 2400 VM
2400

LPM

@10 BAR

Foam/water

: 40M/60M
360°
Manuel
'-45°-+90°
16 BAR
Hard Anodized Aluminum
WG 4000 VM
4000

LPM

@10 BAR

Foam/water

: 50M/70M
360°
Electirical&Manuel
'-45°-+90°
16 BAR
Hard Anodized Aluminium
WG 2000 SE
2500

LPM

@10 BAR

Foam/water

: 40M/60M
'-180° to +180°

Electirical

&Manuel
'-30°-+90°
16 BAR
304 Grade Stainless Steel-Hard Anodized
WG 3000 SE
3000

LPM

@10 BAR

Foam/water

: 50M/60M/20M
'-180° to +180°

Electirical

&Manuel
'-30°-+90°
16 BAR

304 Grade Stainless Steel-Hard Anodized

WG 4000 SE
4000

LPM

@ 10 BAR

Foam/water

: 50M/70M
'-170° to +170°

Electirical

& Manuel
'-20°-+75°
16 BAR

Hard Anodized Aluminium

WG 6000 SE
6000

LPM

@10 BAR

Foam/water

: 70M/ 80M
'-170° to +170°

Electirical

& Manuel
'-20°-+75°
16 BAR

Hard Anodized Aluminium

WG 8000 SE
8000

LPM

@10 BAR

Foam/water

: 80M/90M

'-175° to +175°

Electirical

ve Manuel

'-20°-+75°

16 BAR

Hard Anodized Aluminium

WG 15000 EN
15000 LT/DK @10 BAR

Foam/water

: 110M/130M
'-175° to +175°

Electirical

& Manuel
'-45°-+90°
16 BAR
316L Grade Stainless Steel
Light Aluminum alloy casting and 316l quality body for high chemical resistant for some models
Optional electronic, manual or constant pressure-variable flow rate control nozzles
Optional electronic or manual jet and fog nozzles
Optional GRP design cover for protecting mechanical and electronic equipments
Optional spotlight addition for ground lighting
Optional DCP or CAFS connection
Fully-electronic control unit with CANBUS technology
Safety system for short circuit
Protection class IP67
Proportional joystick – intelligent driving system
On board electronics for electrical controlled turrets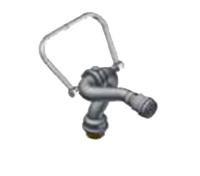 General Information
Control:

Manual

Material:

Hard Anodzed Aluminum
Place of Use

Roof,Rescue Cage

Horizontal Movement

360°
Vertical Movement

-45° 'to +90°
NozzleManual Control / Jet-Fog Nozzle
Options

Foam Barrel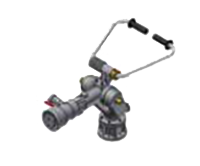 General Information
Control:

Manual

Material:

Hard Anodzed Aluminum
Place of Use

Roof,Rescue Cage

Horizontal Movement

360°
Vertical Movement

-15° 'to +75°
NozzleManual Control / Jet-Fog Nozzle
Options

Foam Barrel, Foam Eduction Noozle
General Information
Control:

Manual

Material:

Hard Anodzed Aluminum
Place of Use

Roof,Rescue Cage

Horizontal Movement

360°
Vertical Movement

-45° 'to +90°
NozzleManual or Automatic Flowrate Control / Jet-Fog Nozzle
Options

Foam Barrel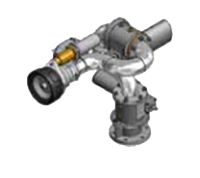 General Information
Control:

Electrical and Manual

Material:

304 Grade Stainless Steel and Hard Anodzed Aluminum
Place of Use

Roof,Bumper,Boom,Rescue Cage

Horizontal Movement

360°
Vertical Movement

-180° 'to +180°
NozzleManual or Automatic Flowrate Control / Jet-Fog Nozzle
Options

Foam Barrel, Deflector, Foam Eduction Nozzle, DCP Throw Nozzle, Spotlight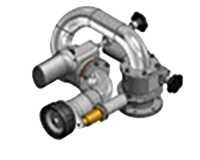 General Information
Control:

Electrical and Manual

Material:

304 Grade Stainless Steel and Hard Anodzed Aluminum
Place of Use

Roof,Bumper,Boom,Rescue Cage

Horizontal Movement

-180° 'to +180°
Vertical Movement

-30° 'to +90°
NozzleManual or Automatic Flowrate Control / Jet-Fog Nozzle
Options

Foam Barrel, Deflector, Foam Eduction Nozzle, DCP Throw Nozzle, Spotlight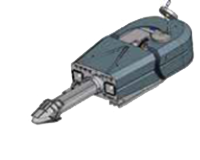 General Information
Control:

Electrical and Manual

Material:

304 Grade Stainless Steel and Hard Anodzed Aluminum
Place of Use

Roof,Boom

Horizontal Movement

-170° 'to +170°
Vertical Movement

-20° 'to +75°
NozzleElectronic or Manual Flowrate Control / Jet-Fog Nozzle / DCP Nozzle
Options

Foam Barrel, Deflector, Foam Eduction Nozzle, DCP Throw Nozzle, Spotlight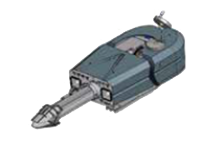 General Information
Control:

Electrical and Manual

Material:

304 Grade Stainless Steel and Hard Anodzed Aluminum
Place of Use

Roof,Boom

Horizontal Movement

-170° 'to +170°
Vertical Movement

-20° 'to +90°
NozzleElectronic or Manual Flowrate Control / Jet-Fog Nozzle / DCP Nozzle
Options

Foam Barrel, Deflector, Spotlight
General Information
Control:

Electrical and Manual

Material:

316L Grade Stainless Steel
Place of Use

Roof

Horizontal Movement

-180° 'to +180°
Vertical Movement

-45° 'to +90°
NozzleConstant Pressure Variable Flowrate Control / Jet-Fog Nozzle / DCP Nozzle
Options

Foam Barrel, Foam Eduction Nozzle, Deflector, Spotlight